No jail time for batterer in blue
July 2, 2009
Ken Richardson reports on the latest example of a Chicago police officer acting out of control and above the law.
ANTHONY ABBATE, a Chicago police officer who senselessly assaulted Karolina Obrycka, a 5-foot-3, 115-pound bartender, won't serve a single day in jail.
This incident is the latest chapter in the history of violence by the Chicago Police Department (CPD) against working-class Chicagoans.
The February 2007 beating took place at a bar called Jesse's Shortstop Inn, and was caught on videotape by a security camera. The tape shows off-duty police officer Anthony Abbate, who weighs 250 pounds, savagely assaulting Obrycka, a 26-year-old Polish immigrant working as a bartender. Abbate is clearly intoxicated and can be seen throwing Obrycka to the ground and repeatedly pummeling her.
After the brutal assault, however, the CPD's "code of silence" was in full force. According to the Blue Must Be True Web site, which tracks and reports on police abuse:
Back on the day of the incident, immediately after Abbate left, a friend of his came in the bar and offered money to Obrycka if she would not prosecute. Police just might "find" some drugs in Obrycka's car or the bar owner's car if she didn't keep quiet, Abbate's friend allegedly said. Obrycka declined the bribe, ignored the threat, and called the police.

Four uniformed officers arrived. One sat at the bar and ate pretzels while another one recorded license numbers off the jukebox and other machines in the bar. The bar is not allowed to operate the jukebox and other accessories unless they pay for city licenses to do so. Perhaps it was important for the officer to make sure the city was getting its cut.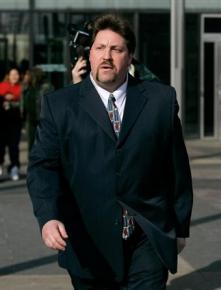 On June 23, a Cook County judge sentenced Abbate to a mere 130 hours of community service at a homeless shelter and two years' probation. He will also have to attend anger management classes. Compared to the maximum time he could have faced--five years in prison--the punishment is minor.
But the ruling not only lets a Chicago cop off with an insignificant punishment; it sends the message that Chicago police can assault any woman at any time, and fear no consequences.
Abbate's attorney, Peter Hickey, defended his client 's assault on a woman less than half his weight, telling reporters, "He's not a bad man...He's a big, mellow, mild gentleman who did something totally stupid." Hickey even tried to argue that Obrycka was the aggressor, because she tried to remove Abbate from the restricted area behind the bar.
Abbate's record tells a different story about this "mild gentleman." According to Blue Must Be True:
Abbate was one of 100 Chicago police officers who had been hired despite having previous drug- and alcohol-related offenses. Abbate's history also included arrests for drag racing and driving on a suspended license. Abate had also been named as a defendant in a civil rights lawsuit several years before his attack on Obrycka.
Obrycka was so frightened by Abbate's assault and the threats of retaliation that followed that she has changed her hair color and lives in constant fear. "My world still feels changed because of this beating," Obrycka said on the witness stand. "I'm still irritable and suspicious. I still see shadows in the corner of my eye."
This case shows the systemic violence that Chicago police inflict on working-class men and women. Whether it is the racist targeting of African Americans on the South and West Sides, the racial profiling of Latinos, or beating Polish immigrants, the CPD have a long and sick history.
The fact that Abbate was let off with a slap on the wrist exposes the reality--of a police force out of control that can act without any fear of reprisal. What's needed is a working-class social movement that can challenge racist and sexist cops--and leave them no "code of silence" to hide behind.