Statement
Hold Don Blankenship accountable
April 14, 2010
In the wake of the disaster which took the lives of 29 miners at the Upper Big Branch mine, the press has reported that Massey Energy was cited for dozens of safety violations, many of them recent and directly related to the suspected cause of the explosion.
Yet the U.S. Chamber of Commerce allows Massey CEO Don Blankenship to sit on its board of directors. The petition below was started by activists and calls for Blankenship's removal by the Chamber of Commerce--and to for him to be held accountable for his deadly actions.
To: U.S. Chamber of Commerce
THE DEADLY explosion at the Upper Big Branch South Mine in Montcoal, W.Va., which took the lives of 29 coal miners and injured several others, was a preventable tragedy. Massey Energy and its CEO Don Blankenship must be held accountable.
Just in the past month, federal inspectors from the Mine Safety and Health Administration (MSHA) cited Massey for 57 infractions at Upper Big Branch--including failing to develop and follow a ventilation plan. Other breaches included failing to control coal dust; inadequate protection from roof cave-ins; failing to mark and maintain escape routes; not having proper firefighting equipment; and allowing combustible materials to accumulate.
In 2009, the MSHA found nearly 500 violations at Upper Big Branch--including 48 classified as "unwarrantable failure orders," which are the most serious--and imposed hundreds of thousands of dollars in fines.
But like the other big mining companies, Massey rarely pays the full value of these penalties--if they pay anything at all. According to the Daily Mail, of the $1.5 million in fines issued against Massey since 2007, the company has paid less than $300,000. Management at the Upper Big Branch mine was in the process of challenging the most recent MSHA citations.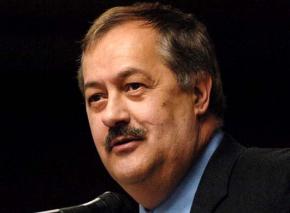 Upper Big Branch also reported an injury rate that was worse than average for seven of the last 10 years, and three miners have died on the job in the last 12 years.
---
AFTER THE Upper Big Branch disaster, Blankenship released a statement claiming that the company's "top priority is the safety of our miners and the well-being of their families."
But Massey's real priorities were revealed in an internal memo written by Blankenship in October 2005. The memo became public as part of a trial stemming from the death of two miners in a 2006 fire in another Massey mine in West Virginia.
In the memo, Blankenship wrote to mine superintendents: "If any of you has been asked by your group presidents, your supervisors, engineers or anyone else to do anything other than run coal (i.e., build overcasts, do construction jobs or whatever), you need to ignore them and run coal."
Mine "overcasts" are critical parts of a proper ventilation system, and "construction jobs" was Blankenship's veiled way of talking about other safety projects. The real meaning of the memo--that profits come first--was clear to everyone. As Blankenship concluded, "This memo is necessary only because we seem not to understand that coal pays the bills."
The only way to prevent further disasters like that at Upper Big Branch is to hold Blankenship and Massey Energy accountable for their reckless endangerment of lives in the pursuit of profit.
We, the undersigned, demand that Blankenship be immediately removed from the Board of Directors at the U.S. Chamber of Commerce and that he and Massey Energy be investigated, with the appropriate criminal and civil charges leveled against them.