Statement
Alexandria shipyard workers need your support
August 16, 2016
More than three years since the military coup that installed the regime of Abdul-Fattah el-Sisi, the Egyptian military government has escalated its agenda of increasing austerity, privatization, budget cuts and repression. For Egyptian workers, this has meant price increases on essential services, rising unemployment and stagnant wages.
Since coming to power, the Sisi government has targeted those linked with the 2011 revolution that overthrew dictator Hosni Mubarak, as well the students and workers organizations that developed further during and after the uprising. But despite the repression, Egyptian workers have continued to resist and are rebuilding the organizations that the regime would rather disappear. Over the last year, large protests have taken place, including those organized by civil servants, doctors and high school students.
In May, workers at the Alexandria Shipyard Company staged a sit-in at the port. In addition to protesting deteriorating wages and inadequate safety procedures, workers are demanding payment of promised bonuses, which the company refuses to honor, permanent contracts for 36 temporary workers who should have received them already by law, health insurance, and the dismissal of the company's general manager.
In response to the action, management locked out the workers, and 26 were arrested and summoned in front of a military court on charges of preventing other workers from doing their jobs, as well as halting production, under Article 5 of the Constitution. Supporters are calling on workers internationally to show their solidarity with the Alexandria Shipyard workers as they face sentencing. Here, we reprint a solidarity statement from Egyptian unionists first published at the Egypt Solidarity Initiative website, along with the call to contact Egyptian government officials to demand the release of the workers.
WE ARE writing to ask for your support for a campaign in solidarity with 26 workers at the Alexandria Shipyard Company in Alexandria who are in detention centers awaiting sentence by a military judge on August 16 on charges of refusing to work and incitement to strike. Their trial lacks many rights that civil courts enjoy in Egypt.
The workers, who have been detained since May 24, have not committed a single crime under military law. Moreover, the actions which led to their detention are described as peaceful protests and a strike demanding a raise in their salaries, and calling for the development and improvement of production in the shipyard, and work safety measures including protection from occupational injuries such as burns.
The Alexandria Shipyard Company cannot be considered a military facility, and workers at it cannot be considered military workers. Rather, they are civilian workers who joined the company years ago when the company was part of the public sector, which is a civilian sector. Therefore, the workers are subject to labor regulation under civil law.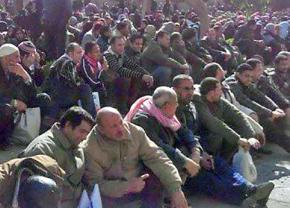 The ownership of the company has evolved since its foundation in 1960, followed by a move to the Marine Industries and Services Organization which is affiliated with the Armed Forces. Therefore, everything that happens within the company has become subject to and within jurisdiction of military courts, according to military law.
Putting the Alexandria Shipyard workers on trial in a military court is a plain violation of international covenants, to which Egypt is a signatory. These state that workers enjoy the right to peaceful protests, in addition to freedom of expression and the right to negotiations to realize their legitimate demands for fair salaries and appropriate conditions of work.
We urge you to take action to spread the word about the trial and send immediate protests to Egyptian President Abdel-Fattah al-Sisi and the Egyptian Minister of Labor calling for the immediate release of the Alexandria Shipyard workers.
---
Signatories
Mettawa Mahran, founder, Independent Union for Private-Sector Workers (in formation)
Su'ad Omar, trade unionist
Raed al-Husseini, president, Independent Teachers Union
Egyptian Union of Oil Workers
Fatma Ramadan, trade unionist
First published at the Egypt Solidarity Initiative website.