Berkeley's system lets women down
September 6, 2016
Mukund Rathi, a student at the University of California at Berkeley School of Law, reports on the administration's anemic response to sexual harassment charges.
UNIVERSITY OF California (UC) at Berkeley Chancellor Nicholas Dirks contracted with consulting firm Williamsworks in July 2015 to "improve the chancellor's strategic profile nationally and internationally."
In exchange for more than $200,000 over the following year, Williamsworks attempted to, among other things, "position the institution as a world-renowned leader in education, research, the arts and global engagement."
If "embarrassing scandals" had been tacked on, that list might have reflected reality more closely.
I was excited in February when I got my acceptance letter to the law school here. Then, a couple weeks later, I saw this headline in the Berkeley student newspaper, the Daily Cal: "Dean of UC Berkeley School of Law sued for sexual harassment."
His former executive assistant, Tyann Sorrell, said that then-Dean Sujit Choudhry repeatedly touched and kissed her without her consent over a period of a year. As Sorrell explained it, he used her "like a tool."
---
DISGUSTING. BUT maybe I shouldn't have been so surprised. A few months earlier, prominent Berkeley astronomy scholar Geoff Marcy was forced to resign after it was reported that he spent a decade groping, kissing and otherwise harassing his female students.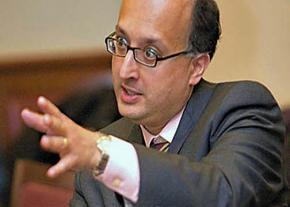 Outrageously, one episode of harassment involved Marcy soliciting, touching and verbally harassing an undergraduate student...who had invited him to a rally against sexual assault.
Before resigning, Marcy stated in an open letter that it was "difficult to express how painful it is for me to realize that I was a source of distress for any of my women colleagues, however unintentional."
This is total nonsense, and his fellow scholars have attested to this.
Joan Schmelz, a professor in the department of physics and materials science at the University of Memphis who worked with women who said they had been harassed, told the San Francisco Chronicle that Marcy had a kind of "playbook," in which he isolated female students, made unwanted initial gestures and then took his harassment to the next level depending on their reaction. Typical predatory behavior.
Schmelz, herself a victim of sexual harassment in graduate school--as so many women are--said, "The reason he's been able to get away with it is that people don't trust the system to protect them."
She's right, and when you look at who's in charge of the "system," it becomes clear why so little justice has been done. Take administrators like UC Berkeley Chancellor Nicholas Dirks, that guy who was supposed to be rehabilitating his image up until he announced his resignation in mid-August.
There isn't any mention of sexual harassment or sexism in the contract with Williamsworks, even though these accusations were already known to the administration.
A June 2015 internal investigation into Marcy validated decades of students' claims of harassment, but Berkeley administrators' tepid response was a warning with no additional consequences. After BuzzFeed reported on the investigation in October, it was up to fellow scholars to force Marcy out.
Dirks and Provost Claude Steele then accepted Marcy's resignation in a bizarre, contradictory statement published in the Berkeley News.
Dirks and Steel claimed to "recognize and share the frustration that many have expressed" at their own concessions to Marcy's misogyny in not initiating dismissal proceedings against him. They somehow believed that the resignation was the "entirely appropriate" outcome, even though it wasn't what they pushed for.
---
BUT WAIT, there's more. A July 2015 internal investigation vindicated Tyann Sorrell's claims that former Law School Dean Choudhry had harassed her, and Berkeley's response was again tepid--a 10 percent pay reduction for one year (a punishing decrease from $415,000 to $373,500) and--wait for it--an apology letter.
Steele and Dirks say they had considered firing Choudhry, but told Sorrell that they decided not to--out of concern for Choudhry's career. It wasn't until Sorrell filed a lawsuit--months after the investigation concluded--that Choudhry stepped down from his dean's position, and even then he continued as a faculty member.
In fact, Choudhry is now complaining that the faculty Academic Senate is investigating whether to revoke his faculty position, an investigation that also began only after Sorrell filed a lawsuit.
Is it any wonder that women, and harassment victims generally, don't trust "the system" to protect them?
For what it's worth, an embattled Steele resigned as provost in April, but cited reasons unrelated to these ongoing investigations. Like Dirks and Choudhry, he will continue to work at Berkeley as a faculty member.
Though Choudhry isn't teaching this semester, he's back on campus. I've seen him once already in the Law School building, as have many other very frustrated students.
The Law School's Office of the Dean sent out a school-wide e-mail about Choudhry, with the subtle subject line "Update." The e-mail explains his return to campus and doesn't mention the sexual harassment suit, only a passing reference to his deanship resignation in March 2016.
The e-mail attempts to deflect students' anger away from the Law School administration by saying Choudhry's return is the result of "confidential Central Campus processes." Whatever that means.
---
SO CHANCELLOR Dirks doesn't care about sexual harassment, but the Williamsworks contract does mention things like "inequality, stratification and declining social mobility" and addressing issues like "student loan debt and college costs" and "the need to maintain wide access to elite education."
One might assume Berkeley's chancellor would have the typical liberal positions on these issues, but recent headlines suggest otherwise.
For one, there's the policy of moving the first tuition payment deadline up 26 days, putting students in a bind if they can't come up with the money and then canceling their registration.
The administration argues that this policy is necessary to clear up waitlists so that students who actually want to be in class will get a seat. Putting aside the administration's implicit refusal to consider hiring more teachers, it's worth dissecting this logic.
If everyone pays their tuition according to the new deadline, no one will be dropped, and the waitlist problem remains. So this policy only makes sense if a significant number of students are unable to pay and are dropped. And it will obviously be low-income students who are most likely to not have the money.
So the administration's policy only makes sense if it's intended to kick low-income students out of class. The Daily Cal has reported that at least one student has set up a GoFundMe campaign to raise money for this initial payment while she awaits delayed financial aid disbursement.
After widespread criticism, the university allotted 11 extra days for students to pay before the university cancelled their registration. There was nevertheless a protest of some hundred students the Friday before classes began to demand an end to the policy.
Students gathered on Sproul Plaza, held signs and chanted about their right to an education, and spoke out about their personal difficulties with the university administration's oppressive policies.
But hey, maybe concerned students can speak to Dirks before he officially steps down. They'll have to catch him at his office before he ducks out the $9,000 emergency exit he had built after an anti-poverty sit-in last April.
Of course, students can follow up with him at his Berkeley residence, which he has had renovated at a cost of more than $1 million over the last three years. That is, after they get past the $700,000 security fence Dirks had installed around the--let's call it what it is--mansion.