People living in fear can't be left to fight alone
May 16, 2017
Janice Hoseine is co-chair of the New Sanctuary Coalition of New York City, which describes itself as "an interfaith network of congregations, organizations and individuals, standing publicly in solidarity with families and communities resisting detention and deportation in order to stay together." Janice has been fighting for two years, along with New Sanctuary, to stop the deportation of her husband, Ramesh Palaniandi. She spoke with Sofia Arias about her personal battle and the wider struggle to stop ICE's war on the undocumented.
COULD YOU tell us more about how you decided to become an organizer?
Janice: For the past two years, my husband has been fighting his deportation. I started off thinking that I could do it by myself. I reached out to a friend of mine who told me that I should contact the New Sanctuary Coalition. Her friend was also facing deportation, and the New Sanctuary Coalition was able to stop his deportation.
So I figured this is where I needed to go. I met with the executive director, Ravi, and we spoke about my husband's situation, and how I wanted him home and didn't feel that he should be in detention. We spoke about the strategies, and how the New Sanctuary Coalition could build support around me so that I wouldn't have to be doing the fight by myself.
My husband was in detention from March 2, 2015, to September 9, 2016. We had two attorneys who tried to get him released, and they couldn't get him out. With organizing and building the support system, I was able to get him home on September 9, 2016.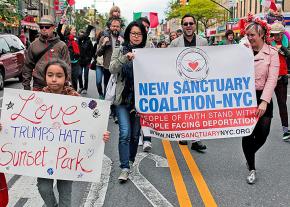 He was "on order of supervision" for about six months, and he had a check-in on March 9, 2017, when he was detained again. Because I was already involved in the New Sanctuary Coalition, I didn't give up. It was tough, but at the same time, I knew that I had that support. I was able to get him home on April 7.
SO YOUR husband was detained under the Obama administration. What was it like to fight for your husband's release then?
Janice: Immigration wasn't as publicized as it is now under the Trump administration. So for me to find out what was going on with my husband, why he was detained, why he was facing deportation—I had to Google search. And that's when I found out about Operation Cross Check.
I just had to go digging to find out information. I reached out to the media--just explaining my story, asking for help. I kind of got rejected because my husband has a criminal conviction from 2007, and I didn't get as much help as I did when he was taken under the Trump administration.
Now it's all over the news about deportation and immigration, so a lot more people were interested to know what's going on. That's why I emphasize that this is something that's been going on for a while. But Trump is the enforcer. He's enforcing everything, and he's not backing down. If he says he's going to do something, he's doing it. So we have to gear up and prepare.
The first time I ever protested, there was a protest at 201 Varick Street [at an Immigrations and Customs Enforcement (ICE) Detention Center]. I had friends who said they were going to go out, but they weren't able to get the time off. And I decided that I was going to do it myself, because I really need to get my husband home. I need to know what it is that I'm getting involved in. I went to Varick Street and walked around chanting and making noise.
I realized that this was just the beginning of my fight, and also that what the court, the jail and anyone who's involved in my husband's case--everything that they're seeing is on paper. So I have to fight on paper as well to show that he isn't a threat to the community, only an asset. I don't feel threatened by him.
I basically had to keep on pushing that in documentation—that he deserves to be home. He's served his time for his conviction. Every time I would send something out, I'd send it out to different departments. If I had to send it out to a different court, I did that.
One of Ramesh's paid attorneys said to me, "You did the impossible," when Ramesh was released. That made me feel like he had no hope that Ramesh would be released. That didn't sit well. We put a lot of money and trust into two attorneys who didn't do what they told us they would do. Our fight is not over, but I'm happy to have my husband home to have somewhat of a normal life and fight this fight together.
COULD YOU tell us more about the work of the New Sanctuary Coalition here in New York City?
Janice: We have an asylum clinic. We have the accompaniment program. We started the Sanctuary Hood, where we're getting more people throughout the tri-state area and outside of New York who have been reaching out to get involved.
Houses of worship are getting involved, taking the pledge to become a sanctuary. There are also places that are not houses of worship, such as businesses, people's residential areas, which want to be part of the Sanctuary Hood, meaning that they are all in for protecting immigrants in our community.
Where they can't provide long-term or short-term sanctuary, they can at least provide information--whether it's literature or further information as to where the closest houses of worship are that are sanctuary where immigrants can go to for a safe place. Right now, we have Brooklyn, Queens, the Bronx and New Jersey as well.
WHAT DOES the accompaniment program look like?
Janice: My husband went [to an ICE hearing] last month, and he was accompanied by about 18 people. Just having that comfort, that confidence, is important for someone who has an ICE check-in or who has to go to court—to have a support group for them, so they show up at court or their check-in, but not by themselves. They have the support system there.
Usually they try to have a minister, a pastor or another faith leader involved in the accompaniment. When my husband stepped out--it was like the shortest visit he's ever had--when he stepped out and everyone rose, you could just see the impact it had among the people that were sitting there as well. It's definitely comforting.
I knew what it felt like for me personally. I felt confident. I felt that this time my husband can go in and come back out. Just constantly building that support system is important to have. I don't think a lot of people understand the impact of it, even if it's the person on the outside trying to figure out what's going on here?
It's just being quiet, just being there, just being present. We've also had other friends who requested to have their family members accompanied at a family court or criminal court. I accompanied someone to the precinct to file a police report, because undocumented people or people who are afraid of being picked up by ICE need that.
MANY ORGANIZERS have noted the deep fear in immigrant communities right now. What do you see as the next steps?
Janice: What I've been saying is that Trump doesn't have much support right now. All I can say is that his actions have definitely brought a lot of people together.
There are so many groups—and every day, it's a protest, every day it's someone lifting their voice and saying, "We're here for immigrants." Trump thought that by having the title of president, he was going to be unstoppable, but the people are definitely showing that they're not backing down.
American citizens are standing up and fighting for an immigrant, but they still have to understand that the approach they're going to take is the right approach. Because at the end of the day, the immigrant is the one who's going through this, and it's important that the citizens who are fighting for immigrants present it the right way.
Those who are fighting against us are going to say, "Look, this is what I mean, the immigrants are really causing a ruckus here." I'm a U.S. citizen, but if my husband has to leave, I'm leaving with him.
During the Obama administration, you would hear that Obama deported more people, but you wouldn't see much action in protest. Now you see so much more action, and the action is so much more positive. I feel like we're getting so many people who are undocumented coming out and fighting for themselves.
It's still terrifying, because you'll hear that undocumented people or people who are scared of being arrested by ICE are afraid to come out. When there's a forum or a meeting to help support them, there are rumors that ICE is going to be there.
But because of this new administration, there's so much media coverage, and the word is getting out about how to protect yourself from being deported. New Sanctuary Coalition has an immigration clinic. We have volunteer attorneys who you can consult with. And remember, you are your own greatest defender.
WHAT WOULD you recommend people do to get involved right now?
Janice: My husband said it at the Seder [in the Streets]: Without support, there's nothing. And that's the truth.
Like I said in the beginning, I felt like I had to do it myself, because I'm from Trinidad. Whether it's an arrest or facing deportation, it's shameful to say something. A lot of people look at it as embarrassing to say that my family member is facing deportation or they're in jail.
But there are groups out there that are willing to step up and fight for them, and I found that in the New Sanctuary Coalition. And it's only growing. Those who are in fear have to understand that they're not fighting alone. There is support. No one's going to know if you need it unless you say it.
The support is there. We just have to continue doing what we're doing, and make it public.