and
Solidarity with the Indigenous movement
October 2, 2017
Several hundred Indigenous organizers and supporters gathered in Gallup, New Mexico, last weekend for the Native Liberation Conference organized by the Red Nation, taking part in workshops and forums to orient, update and educate Red Nation members and the general public on local, regional and international movements for Indigenous liberation. Ragina Johnson and Brian Ward, on behalf of the International Socialist Organization, sent the following solidarity greeting to the conference.
THE ISO sends our warmest greetings as you gather for your Native Liberation Conference. We wish we could be there in person to discuss the way forward toward Indigenous liberation.
The need to build a more confident mass movement to take on all the attacks facing Indigenous people, African Americans, women, LGBTQ, immigrants, working class and all oppressed people grows more serious every day.
As Donald Trump has attacked social services and health care, he has proposed to cut $300 million from Indigenous Nations, confirming an uninterrupted record of U.S. governments breaking their treaty obligations. This can only raise more memories of the disastrous termination policy of the 1950s. Trump's proposed border wall would cut right through the Tohono O'odham Nation. This is only the tip of the iceberg of the attacks, and at the core of Trump's message is an attack on Indigenous Nations.
At Standing Rock, Indigenous Nations paved the way for what solidarity and resistance looks like. As resistance has grown and Indigenous movements have become more and more connected to Black Lives Matter, the environmental justice movement and more, there is a growing appreciation of links between settler colonialism, capitalism and the brutality of the U.S. nation state.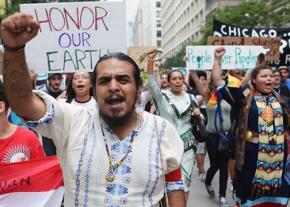 Being that this country was founded on the backs and resources of Indigenous Nations, slave labor and the exploitation of immigrants, we know that the United States of America has never been "great." From its founding, the U.S. has always been a deeply unequal and racist society.
So we have to educate a growing left that our struggle for Indigenous liberation goes beyond issues of the environment. Indigenous people face police brutality, violence and murder, unemployment, housing shortages, low wages at a higher rate than any other group in the United States.
As we are living in a time of increasing corporate plunder and capitalist barbarity, we must fight together and build solidarity in order to win.
The ISO aims to help build a socialist alternative to a world of deepening poverty, oppression and war. Our organization participates in many different struggles for justice and liberation today. We have been at the heart of the struggle to stop the alt-right, fascist, white supremacist movement. We do all this while working toward a future socialist society, free of all exploitation and oppression, and built on the principles of solidarity and democracy.
You have all our solidarity and we look forward to linking arm and arm in all these struggles ahead as we build a greater relationship between our organizations.
We have the power to fight for a better world that overturns capitalism and settler colonialism and fights for true indigenous liberation and the liberation of all working people.