The fight goes on for a deported activist
January 22, 2018
Shireen Akram-Boshar reports from Boston on a protest in support of activist Siham Byah as she continues her fight for justice from Morocco.
SOME 65 people braved the cold and wind on January 9 to protest the deportation of local activist Siham Byah--and the repression and manipulation she faced at the hands of Immigration and Customs Enforcement (ICE).
Siham, a resident of Nahant, Massachusetts, for nearly 20 years, a longtime activist in the Boston area and a single mother of an 8-year-old boy, was detained at what she thought would be a routine check-in at ICE offices on November 7.
During her detention, authorities subjected Siham to physical violence, unsanitary conditions, frequent transfers in the middle of the night, and threats against her and her son--all before forcing her onto a plane to her country of birth, Morocco, on December 27.
Siham's supporters on the Boston left rallied behind her throughout this ordeal. The Boston branch of the International Socialist Organization (ISO) hosted a panel discussion on December 14 featuring Siham's lawyer Matt Cameron, her partner Aziz, and Siham herself calling in from Bristol County Jail. The following week, activists met to form a coalition to continue the fight.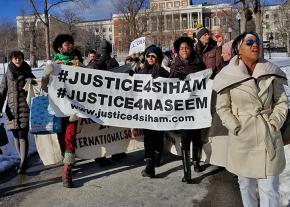 But on the day after Christmas, ICE moved Siham to a Virginia facility, away from her supporters, family and community, and she was deported to Morocco a day later.
At an emergency public meeting on December 28, activists planned the January 9 protest in solidarity with Siham and numerous other families broken up by detention and deportation--and to expose the complicity of the Massachusetts Department of Children and Families' (DCF), which took Siham's son Naseem into custody in express opposition to his mother's wishes, in breaking up families.
After her detention, DCF hindered communication between Siham and Naseem, and raised the possibility he might be adopted rather than reunited with his mother.
---
THE JANUARY 9 protest began with a speak-out at the JFK Federal Building, where hearings for the deportation of children are held every Tuesday. Two members of the coalition to free Siham attended the morning hearings and reported on them at the rally.
ISO member Ryan Roche recounted several of the cases, including that of an 11-year old boy forced to face a judge under threat of deportation.
In another case, a pregnant teenager from El Salvador had not appeared in court--her lawyer informed the room that she had given up on her case because of the stress of it, returned to El Salvador, and was now in a hospital facing complications with her pregnancy due to the trauma of the entire ordeal.
Roche pointed out that the deportation proceedings take place in the same building where liberal darling Sen. Elizabeth Warren and other Democratic politicians have their offices. The building is also across from Boston Mayor Marty Walsh's office.
These politicians have claimed to support sanctuary for undocumented families--but stayed silent in Siham's case.
Matt Cameron, Siham's lawyer, spoke about the trauma that the immigration system inflicts on people like her. He described an asylum case that he attended for a transgender rape survivor who was "grilled, not just questioned, but screamed at by a government attorney for three hours," before being granted asylum.
After members of the Green Rainbow Party, Boston May Day Coalition and Party for Socialism and Liberation, Siham herself spoke, calling in from Morocco. She described her mistreatment during two months of detention:
I have felt extreme hunger, extreme cold, extreme physical and emotional pain, extreme fear, and extreme humiliation. If anyone out there is going to tell you that these are not American values, this is not what America is, I'm going to tell them how wrong they are.
After the speak-out, protesters marched to the DCF building, passing in front of the State House. Chants included "ICE, ICE, go home, leave our families alone" and "DCF, have a heart, don't tear families apart."
With a banner reading "Justice 4 Siham, Justice 4 Naseem," the rally continued in front of the doors of the DCF building. The agency, which prevented communication between Siham and her son for weeks, has dared to charge her with negligence during the course of her detention.
Siham's partner Aziz spoke about how DCF's collusion with ICE led to the breakup of their family and impacted his 4-year-old son, who is confused about why he can't see Naseem. DCF prevented Naseem from seeing Aziz since November with the excuse that there is no legal relationship between Aziz and Naseem.
Siham called in again during the speak-out and repeated her demands that she remain Naseem's primary custodian, that she be able to communicate with her son freely through video-chat, and that DCF prepare a passport for Naseem so that she can plan for their reunification.
In the week after the protest, DCF began to comply with Siham's demands. The agency facilitated video-conferencing with her son, recognized her role as primary custodian, and agreed to provide him with a passport so they can reunite in the near future. Siham attributed these successes to the work of this campaign and the protests that amplify her voice.
---
THE STAKES continue to rise as ICE and the Trump administration wage a multi-pronged attack on the immigrant population generally, and activists who stand up for immigrant rights in particular.
On January 11, for example, ICE detained Ravi Ragbir, a prominent immigrant rights activist in New York City, at his check-in. Two hundred community members who had come to support him protested and attempted to stop his removal. Like Siham, ICE quickly moved Ravi to a detention center in Miami, separating him from his supporters.
The authorities have detained other activists such as Maru Mora-Villalpando and Amer Othman. Meanwhile, Trump announced the cancellation of Temporary Protected Status for 260,000 Salvadorans, and ICE raided dozens of 7-Eleven stores in search of undocumented workers to deport.
Siham spoke out in solidarity with Ravi upon hearing about his detention, saying: "This is a systematic attack on people's rights to opinions, especially when said opinions highlight the cruelty of fascism in the USA. I was the first to be targeted and won't be the last if we don't all collectively stand up and refuse to be treated this way. My unconditional solidarity with Ravi Ragbir!"
We show follow Siham's lead and step up the fight against Trump's deportations.