U.S. border violence stalks Tijuana every day
February 15, 2019
Kris Parker writes from Tijuana on the conditions facing migrants and asylum seekers.
IN LATE January, the Trump administration deported the first group of asylum-seeking migrants as part of the recently implemented Migrant Protection Protocols, also known as the "Remain in Mexico" policy.
This policy, announced in December by Homeland Security Secretary Kirstjen Nielsen, represents the latest escalation of the Trump administration's shameful effort to impede people from exercising their legal right to seek asylum in the U.S.
While such a policy comes as little surprise from a government that has spent the last two years systemically attacking immigrant communities in ways that would make our former Deporter-in-Chief blush, the severity of this current escalation can't be overstated.
And naming the policy "Migrant Protection Protocols" is particularly cruel — and indicative of Trump's disdain for the truth — considering that Tijuana is where the deportees end up.
---
TIJUANA IS a city of almost 2 million people that sprawls along the southwestern border of California.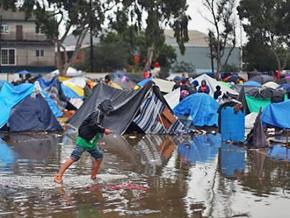 It takes roughly 30 minutes by tram from San Diego to reach the San Ysidro Port of Entry. To cross into Mexico, you walk down a narrow concrete path and proceed through a metal gate. If you're a U.S. citizen, after showing your passport and putting your bags through an x-ray machine, you're good to go.
Exit the building, and you're in Tijuana. The neighborhoods of San Diego, with their Spanish revival homes, placid lawns and quiet streets, lie less than 25 miles to the north. But for someone seeking the safety and relative stability of the U.S., they may as well be a world away.
Most migrants seeking asylum come from places that are hundreds of miles away from Tijuana, but the distance does nothing to insulate them from the violence, poverty and instability they had hoped to leave behind.
In 2018, Tijuana's murder rate became the highest in Mexico, with a record 2,518 people killed, according to the Los Angeles Times. This works out to 140 murders per 100,000 people — by comparison, San Diego had two murders per 100,000 people. Nine out of 10 killings in Tijuana go unsolved.
This uptick in violence has been largely attributed to competition for control of the drug trade, though the killings are not limited to those working with drugs.
In December, two Honduran teenage boys were killed while traveling between migrant shelters. During my visit to Tijuana, I spoke with an organizer at the legal aid organization Al Otro Lado who had interviewed the boys prior to their murder.
The two boys had been traveling with a third who had managed to escape, though all three had been tortured. None of them were involved with the drug trade. While these particular killings received some attention in U.S. media, similar instances of violence directed toward migrants are believed to occur frequently, often with impunity.
---
THE EXACT number of asylum seekers in Tijuana is unknown, which makes it impossible to estimate what proportion of migrants experience violence. The organizers I spoke with said they have taken information from more than 21,000 people seeking legal services, and based on this number, they estimated that there could easily be twice that number of recent migrants in the city.
Though the situation changes daily, there are currently estimated to be 30 "shelters" around Tijuana, with only one exclusively for children. The quality of shelters can vary significantly, and often, they amount to little more than an ad-hoc tent city. The children's shelter is typically at capacity, despite the estimated thousands of unaccompanied minors in the city.
It is these unaccompanied minors who Al Otro Lado identifies as some of the most vulnerable of migrants. Unknown numbers of children have gone missing. These disappeared minors are suspected of being trafficked into the sex or drug trade that persists in Tijuana.
There are currently no "large" shelters in operation. The two that have received media attention in the past, Benito Juárez and El Barretal, have been shut down by the Mexican government.
In response to the increase in violence, Mexican President Andrés Manuel López Obrador has announced a "special plan" to deploy federal police and military units to Tijuana to halt the city's violence.
These additional units will apparently work with local police — despite frequent allegations of corruption and suspected overlap with organized crime and the police assigned to fighting it. Consequently, this escalation of militarized strategies has the potential to increase, rather than reduce, the levels of violence in the city.
With Tijuana Mayor Juan Manuel Gastélum openly hostile to migrants and calling for the prosecution of pro-migrant groups such as Pueblo Sin Fronteras, asylum seekers and their supporters subsist at the intersections of state-sanctioned, cartel, interpersonal and right-wing violence or harassment.
The threats to migrants and their supporters are more than hypothetical. The day I visited, Al Otro Lado's legal director and litigation director were denied entry upon returning to Mexico. The Mexican government would only tell them that a government it refused to name had flagged their passports, according to the Los Angeles Times, and they were flown to Los Angeles.
This incident reveals the extent of government surveillance and willingness to undermine those providing support to migrants. The targeting of a legal aid organization is of particular significance as legal counsel makes a crucial difference in navigating the complexities of the asylum process, with migrants five times more likely to win their asylum case when they have access to legal aid. The Department of Homeland Security (DHS) is, of course, aware of this.
---
IN ADDITION to forcing asylum seekers to remain in unsafe conditions with no guarantees of access to shelter, food, water, medical care and legal counsel, the justifications for the Migrant Protection Protocols are predicated on a web of disingenuous and false claims.
Even putting aside the long history of destabilizing U.S. intervention in Central America and the region at large, the current "crisis" at the border that Trump's administration regularly cites is largely one manufactured by the U.S.
The Customs and Border Protection (CBP) decision to implement a system of "metering" — in which a limited number of asylum requests are processed per day — is primarily responsible for the backlog of asylum-seekers in Tijuana.
Amnesty International has reported that between 30 and 70 requests are accepted per day at the San Ysidro Port of Entry. By U.S. law, those seeking asylum do not have to enter the U.S. via a designated port of entry, nor does the CBP have any right to turn away asylum seekers for administrative reasons.
This limited number of cases being processed has resulted in wait times that can stretch on for months, increasing the attractiveness of crossing the border by any means for those seeking to escape violence.
When announcing the Migrant Protection Protocols last December, DHS Secretary Kirstjen Nielsen justified the policy this way:
Aliens trying to game the system to get into our country illegally will no longer be able to disappear into the United States, where many skip their court dates. Instead, they will wait for an immigration court decision while they are in Mexico. "Catch and release" will be replaced with "catch and return." In doing so, we will reduce illegal migration by removing one of the key incentives that encourages people from taking the dangerous journey to the United States in the first place.
While much can be said about Nielsen's dehumanizing and reactionary rhetoric, it is important to understand that it is also premised on a lie. According to the Justice Department's own data, the vast majority of asylum seekers do not skip their court hearings.
Like the crisis itself, the justifications for the Migrant Protection Protocols also appear to be fabricated.
---
WHILE TRUMP'S fanaticism about a border wall and the aggressiveness of his administration's approach to immigration present themselves as easy targets for criticism, it is important to remember that imperial interventions and hostile immigration policies have historically enjoyed bipartisan support.
For example, within the current exodus of people fleeing north from Central America, many are from Honduras. In 2009, the Obama administration legitimized a right-wing coup there, which has led to greater instability and a proliferation of state and gang violence.
Consequently, it should come as no surprise to learn that leading figures in the Democratic Party are wobbly regarding their supposed opposition to Trump's wall.
Many Democrats appear all too willing to deploy the same rhetoric of "border security" that the Trump administration has used to justify such policies as separating children from parents. Rather than acknowledging and resisting the arbitrary, racialized and violent nature of current immigration policy, Democrats appear to be pushing for more "efficient" enforcement.
The situation in Tijuana is urgent. More people arrive each day with the hopes of finding some eventual peace and stability. As the U.S. government elects to lock migrants in cages and European governments let them drown at sea, it is up to people worldwide to stand and reaffirm the humanity of those turned back at the gates of the empire.