and
Greensboro says hands off Venezuela
March 7, 2019
ACTIVISTS FROM Greensboro, North Carolina, organized a speak-out February 24 against U.S. government support for regime change in Venezuela.
Some 20 people gathered to raise their voices against arms shipments and U.S. intervention in Venezuela. Attendees included members of the Greensboro International Socialist Organization, Greensboro Democratic Socialists of America, the North Carolina Green Party, Working Class and Homeless Organizing Alliance and Refuse Fascism-Greensboro.
Activists at the speak-out chanted, "Abrams and Trump, don't you lie! Because of you, children die!" and "Exxon-Mobil, Citgo, Shell, take your war and go to hell!"
The Greensboro-based company 21 Air has been implicated in the ongoing crisis. One of its planes was purportedly caught by Venezuelan authorities transporting "assault rifles, telescopic sights, radio antenna" and more, according to McClatchy.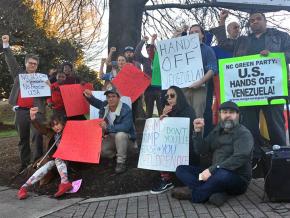 The speak-out came one day after a crisis along the Venezuela-Colombia border concerning humanitarian aid, with the U.S. government having set an ultimatum for February 23 for the Venezuelan government to accept aid. Many thought that day would mark the beginning of a coordinated intervention into Venezuela in support of would-be coup leader Juan Guaidó.
21 Air has denied having made any arms shipments. However, one of its planes has made tens of flights to and from Venezuela and Colombia since January 11, raising eyebrows in the media.
Activists in North Carolina are well aware of the state's role in past covert military operations. During the Bush era, Johnston County-based Aero Contractors participated in the extraordinary rendition of at least 44 torture victims according to the Commission of Inquiry on Torture.
While no direct link can be drawn between the Bush-era programs and today, the pattern of our state's complicity in illegal military operations continues to be a concern.
In the absence of a large antiwar movement, it can be easy to feel helpless in the face of Trump's cabinet of war criminals like National Security Advisor John Bolton and Special Envoy to Venezuela Elliot Abrams. Crises like the one in Venezuela, however, demand that we extend our solidarity to the people of Venezuela who are being starved by sanctions and threatened with civil war.
Building a socialist left that puts anti-imperialism at its center will be crucial as the U.S. government seeks to re-tool hemispheric control and enters into increasingly intense inter-imperial rivalries.