Report
Rise up for Rekia!
April 23, 2015
SocialistWorker.org contributors in Chicago report on the acquittal of a killer cop--and the determination of activists to continue fighting for justice for Rekia Boyd.
REKIA BOYD was 22 years old when she was killed in March 2012 by a stray bullet fired by off-duty Chicago police officer Dante Servin. On April 20, a little over three years later, a Chicago courtroom erupted in anger at another travesty of justice when a judge cleared Servin of all charges.
Rekia was killed a few weeks before Florida teenager Trayvon Martin was shot dead by vigilante George Zimmerman. In the three years between these deaths and Servin's trial, a new era of struggle has emerged.
Servin was the first Chicago cop in nearly two decades to be put on trial for a fatal off-duty shooting. That he even set foot in a courtroom is due to the organizing and determination of Rekia's family and their supporters over the past three years, bolstered by the national struggle that has coalesced around the Black Lives Matter movement.
Witnesses and attorneys recounted how, from his car, Servin accosted "a large group of Blacks"--Rekia and three of her friends were leaving a party in Douglas Park on Chicago's West Side. After exchanging words, Servin opened fired into the group, striking Rekia in the head.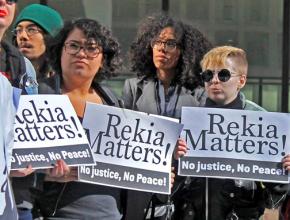 Just as the Florida courts put Trayvon Martin on trial for his own murder, Servin's defense painted his actions as self-defense against Antonio Cross, a friend of Rekia's who was with her when she died and was wounded by another bullet fired by Servin. The off-duty officer claimed he feared for his life because Cross had something in his hand. This turned out to be a cell phone.
---
ON APRIL 20, supporters dressed in yellow--Rekia's favorite color--filled the seats behind her family in the courthouse, marking the largest gathering of supporters present since the trial started.
The crowd represented many of Chicago's anti-racist organizations and activists. Some had been working alongside the family, while others responded to a call to fill the room in order to put pressure on Judge Dennis Porter. Notably, the police presence was also heavily increased. Chicago cops and Cook County sheriffs were posted at each door and along the aisles of the courtroom.
Servin's lawyers were to begin calling their witnesses, but Porter started speaking about his ruling on a motion that is almost never granted--a directed verdict for acquittal before the defense even presents its case. "I know there has been a lot of emotions attached to this case," Porter began. "But this is not the place for emotions. This is a place for reasoned decisions...If you think you will have a problem handling your emotions, leave now."
Porter then described the necessary conditions to prove the involuntary manslaughter charge against Servin, using a logic that many legal experts have declared to be incredible and nonsensical. The judge declared that because the core definition of involuntary manslaughter includes not only unintentional death, but also a "reckless state of mind," and since Illinois law states that the act of firing a gun into a group of people is intentional and by definition not reckless, Servin's actions may have qualified for a first-degree murder charge, but not manslaughter. Since the state charged him with manslaughter instead of murder, the judge had no choice but to direct an acquittal and let Servin walk free.
A short moment of silence following the judge's statement was broken when Rekia's eldest brother Martinez Sutton rose up, screaming, "That's not right! That's not right!" and "This m----- killed my sister!"
As the judge yelled, "Silence!" police immediately surrounded Sutton and his family. They were pushed violently out of the courtroom, while Servin's family and supporters were allowed to stay seated. In the hallway outside, dozens more police officers were waiting--and moved in on the crowd in a wave.
Protests erupted when cops shoved, grabbed and dragged other trial attendees toward the elevators, and away from a corner where Martinez and four other people were detained. A police department canine unit stood in wait with an unmuzzled German Shepherd. Sutton and other activists were released after one of the people detained suffered a medical emergency and had to be taken to a hospital.
---
THE NEXT day, the same broad alliance of activists from the courtroom came together in Daley Plaza downtown for a solidarity rally to continue the fight.
"Black Lives Matter. Black Women's Lives Matter. Black Trans folks' Lives Matter. Black Queer Lives Matter. It's almost surreal that we have to continue to declare that our lives matter in this country," Malcolm London, the Black Youth Project 100 (BYP 100) Chicago co-chair, told the crowd of protesters.
With speakers and support from Black Lives Matter, BYP 100, Chicago Alliance Against Racism and Political Repression, Feminist Uprising to Resist Inequality and Exploitation, International Socialist Organization (ISO) and others, 120 people huddled together against a biting wind.
Ayanna Banks Harris, co-organizer of Love and Protect, spoke to the importance of defending Black women's lives, drawing on an incredible tradition of Black women leadership in the struggle and in articulating the need for justice:
In the wind, I hear the words of Sojourner Truth spoken more than 160 years ago--'Ain't I a woman?' But I also hear her concluding words spoken of a world that's upside down, that 'these women together ought to be able to get it right side up again.'
On the same day that Dante Servin walked free, 25-year-old Freddie Gray died while in police custody in Baltimore. Harris noted that Gray's death made it 349 people who have been murdered by police in the U.S. in 2015--three people per day killed this year while their murderers walk free.
The national news media, however, seems to only make room for one tragedy per day, reporting on Gray's death at the expense of covering the acquittal of Rekia's killer. In the face of this, Harris moved forward through time, sharing poetry from Maya Angelou, Audre Lorde and Nikki Giovanni. She concluded:
May the words of our elders and ancestors be nourishment for our souls and help resolve the straightness of our backs. May their words provide wisdom and direction as we look beyond a system that was NEVER designed to protect our bodies or defend our lives. May they strengthen us for the days ahead as we keep speaking the name of Rekia Boyd.
Georgette Kirkendall of the ISO confided to the crowd that when she talks to people about her politics: "They ask me if I'm afraid--that I'll experience more violence if I keep protesting. I always tell them the same thing: Of course I'm scared. One of the scariest moments of my life was being forcibly thrown out of that courtroom yesterday. But it happens every day."
Police embody the carnage of this system, "which spills out on our bodies," Kirkendall continued. How can there be any choice but to fight back?
---
SUPPORT FOR Rekia Boyd rang out beyond Chicago. In Washington, D.C., Rekia's family joined a March2Justice event on April 21 and announced plans to seek federal charges against Dante Servin. In Philadelphia and New York City, protesters marched in solidarity with Rekia and her family.
Meanwhile, attention turned to Baltimore, where Freddie Gray died after succumbing to injuries suffered while he was in custody. Video of the brutal assault on Gray has been circulating online, showing police breaking Gray's spine as he screams in anguish. News of death prompted thousands to pour into the streets, shouting "We're going to fight for Freddie Gray! All night, all day!"
The federal government responded swiftly, announcing an investigation to determine if civil rights charges can be brought against the Baltimore police.
But last month, the Department of Justice (DOJ) released a report detailing systematic racist abuse among police in Ferguson, Missouri--but simultaneously declined to press federal charges against Darren Wilson, the officer who murdered Mike Brown last August--on the grounds that the witnesses to Brown's daylight execution were less "credible" than Wilson and his fellow officers in what the DOJ itself calls a "broken" local police system.
The system isn't broken. It's fixed. It is designed to simultaneously set free murderous cops and sanction the killing of people guilty of nothing other than being Black. In contrast to the occasional rhetoric of officials like Attorney General Eric Holder, the facts show that the Justice Department routinely backs police against complaints about their use of deadly force.
This week, many people in Chicago are questioning whether any meaningful justice can be wrung out of a system that actively protects police violence, from grand juries in towns and cities around the country to the Attorney General's office in Washington, D.C..
While many activists in Chicago, including the authors of this article, look forward to a day when prisons and police have been abolished, the question remains: How do we get there? How do we support the families of those murdered by police who are seeking immediate justice under a system that is designed to prevent justice, while building a mass movement to dismantle the prison-industrial complex and the injustice system?
Todd St. Hill, an organizer with BYP 100, We Charge Genocide and the ISO, closed out Chicago's Tuesday protest with the words, "We have only begun to fight!":
It will take a vast multiplication of these protests to compel any justice from a system built for the exploitation and destruction of Black lives. If we can build a mass movement capable of getting any justice from a system designed to exploit and oppress--with poor and working-class Blacks and other people of color suffering the most--the potential for the abolition of the prisons and the police would grow exponentially.
But we have only begun to fight.
Rachel Cohen, Todd St. Hill, Georgette Kirkendall and Rene Rougeau contributed to this article.