Arrested by a racist in Seattle
June 25, 2015
On December 6 of last year, Seattle activist Jorge Torres took part in a Black Lives Matter protest. Police, identifying Torres as a protest leader, arrested him and assaulted him in the process. Audio recording of the police has since come to light revealing that officers discussed fabricating a pretext to arrest Torres--in order to "deny [the protesters] their leader." At another point, one officer began to use a racist slur when speaking about him. "They're going to the freeway. Fuck's sake. Just get that, get that fucking wet-ahh. They're going to the freeway, dummies," the officer can be heard to say. Charges of "pedestrian interference" and "reckless endangerment" were dropped against Torres in April, and the city is currently investigating the circumstances of his arrest.
On June 18, activists representing the Black Lives Matter movement, the Seattle NAACP, Jewish Voice for Peace, the International Socialist Organization and Not1More Deportation came together to speak out in support of 11 activists who were arrested as part of a subsequent Black Lives Matter protest on Martin Luther King Day. Here, we reprint Torres' statement at the press conference.
FIRST, I want to express my deepest sympathies and condolences to the families of the victims of the Emanuel AME church hate crime massacre. Their deaths show the continuing necessity to keep fighting for a better world.
My name is Jorge Torres, I am a Family Resource Specialist at a local child care nonprofit and have been a community activist involved in social justice organizing for over 10 years.
I am here today to support the defendants from the civil disobedience action that took place on Martin Luther King Day this year in an act of solidarity with the movement known as Black Lives Matter; and to call on the City Prosecutor's Office to drop charges and dismiss their cases immediately.
I myself have been a victim in the city's politically motivated effort to suppress dissent, an effort that has cost my city hundreds of thousands of dollars over the past months. I was among half a dozen individuals arrested on the afternoon of December 6, 2014, while participating in a Black Lives Matter demonstration, where the Seattle Police Department's apparent primary purpose was to harass and antagonize those expressing their First Amendment rights.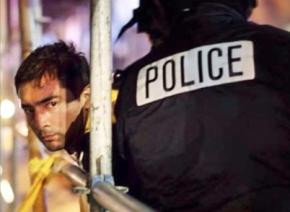 I myself was taken down as I was walking through the intersection on Fairview and Denny by an officer who came careening towards me on his bicycle. Once he leapt off his bike and slammed me to the ground, I immediately felt three officers dog-pile on top of my back. One placed my legs in a hog-tie position; another's apparent sole responsibility was to dig my head into the pavement.
The following six months before the city decided to dismiss my case was a long ordeal of court hearings, which cost me time away from my family and friends, and certainly cost my city money.
It came to light during the pre-trial period, in audio recordings from police dashboard cams, that I had been targeted by the SPD for arrest, not for any immediate threat to safety, but because they saw me as a visible leader of the march and wanted to use my arrest to end the demonstration.
My arrest report indicated flagrant bias on the part of the SPD--for example, claiming a clipboard in my backpack could be intended as a weapon, and Officer Burns claiming that despite the three officers who were all a foot taller than me rendering me immobile on the pavement, he "had to use all [his] strength" to arrest me (reminding me of the racialized language Officer Darren Wilson had used to describe his encounter with Michael Brown). Further example of SPD's reckless disregard for truth and justice was Officer Burns' initial recommendation to charge me with inciting a riot. a recommendation which was rightfully ignored by the city.
My lawyer further found an audio clip from a dashboard cam in one of the vans that would later transport me to the West Precinct from an officer using a racial slur in the run-up to my arrest as he motivated himself and his colleagues to arrest me, saying, "Just get that fucking wetback."
The ease with which the officer practiced this hate speech is not just an indicator of his individual bigotry. It also speaks to the culture of the SPD workplace environment, where an employee can feel it both safe and appropriate to be openly racist.
In exposing the bigoted workplace culture the SPD operates in, I stand with the defendants today. As long as they suffer their own ordeal there will be no justice. And as long as racism, repression and brutality exists anywhere, there will be no peace.