Seattle challenges the "40 Days"
October 4, 2017
Michelle Farber reports on a showdown over reproductive rights in Seattle--with supporters of choice easily outnumbering a pathetic showing by anti-abortion protesters.
SOME 100 pro-choice activists gathered to defend a Seattle Planned Parenthood clinic on September 30, the kickoff weekend for the anti-choice fanatics "40 Days for Life" this fall.
Usually, this clinic is besieged during 40 Days for Life, in which the antis attempt to have a presence outside the clinic every hour of the day from September 27 through November 5.
But when Seattle Clinic Defense organizers and supporters started their defense orientation, the two lone anti-choice demonstrators present were overwhelmed. One, who held a giant, graphic image and was using a megaphone to harass patients and passersby, packed up and left 10 minutes after the defense started. He cursed the defenders, frustrated that his ranting was drowned out by pro-choice chants.
The second anti-choicer stayed for about another hour, but was so surrounded by our banners and signs that she wasn't even visible.
The week prior to the action, the city of Seattle had been taunted with origami butterflies left all over the city with links to the anti-choice website All Gods Must Die.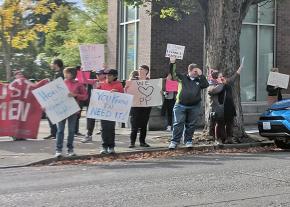 The group Abolish Human Abortion held demonstrations around the city during the week, but not at any abortion clinics. Their signs reference pro-choice people as "Holocaust deniers," and their flyers, marked for an action on September 28, which is also International Safe Abortion Day, simply stated, "You Are Not Safe."
Organizers of the clinic defense assumed that this group would confront the defense on Saturday, but instead, received reports that roughly 50 picketed an infertility clinic slightly north of downtown Seattle.
Seattle Clinic Defense was joined by members of the International Socialist Organization, Huskies for NARAL Pro-Choice Washington and the Seattle Chapter of Democratic Socialists of America.