Finding our voices in defense of clinics
January 17, 2018
Michelle Farber describes the organizing that brought out a large crowd to defend a Seattle clinic--and the political arguments that were needed to make sure it happened.
SOME 80 activists in Seattle donned pink T-shirts and hats on January 13, and went out to defend the Madison Planned Parenthood clinic against a planned protest by anti-choice groups.
The action was called by Seattle Clinic Defense, which has been organizing grassroots defenses of abortion clinics around the Puget Sound area since 2011. The group was joined by members of NARAL Pro-Choice Washington, Seattle Democratic Socialists of America, the International Socialist Organization and Protectors Community, a grassroots group that mobilizes rapid responses to organizations being threatened or harassed by the right.
Since November 2016, there has been a marked upswing in interest in clinic defense. Monthly defenses routinely have dozens of pro-choice defenders present.
This month, however, the Facebook event for the action went viral, with more than 300 people saying they were "going" and over 6,000 "interested." Some local Seattle press began covering the event, and everyone was curious if hundreds of people would show up to defend our local clinic.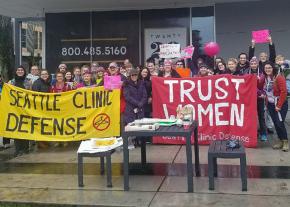 This did, however, pose a novel problem for Seattle Clinic Defense activists.
Our local clinic usually faces anywhere from two to eight anti-choice protesters. Last fall, Seattle Clinic Defense organized a counterprotest of nearly 100 people against the anti-choice "40 Days for Life." Any crowd larger than that, activists worried, could have potentially impeded access to the clinic--something activists have always been careful to avoid.
In response to the anticipated size, organizers made contingency plans for a march and speak-out in case the numbers were overwhelming, and we would need to move a large crowd away from a successfully defended clinic.
The morning of the action, close to 80 excited, mostly first-time clinic defenders met across the street from the clinic and were greeted by nearly a dozen police officers and police barricades lining both sides of the street. Collectively, the crowd voted to stay and defend the clinic, especially since one of the four anti-choicers present had brought amplified sound.
---
DURING OUR two-hour defense, participants chanted and cheered as cars driving by obliged our many "Honk for Choice" signs.
One new clinic defender shared this about her experience, distracting the anti-choice demonstrator on the megaphone:
This was my first clinic defense, and as I was debriefing with my husband afterwards, I found myself in tears. Not from anxiety about feeling so unprepared for impromptu conversations about my faith in Jesus; not from the frustration of feeling tongue-tied trying to reason with Christian radicals; but because I felt so supported by strangers.

In particular, strangers who, because they have no uterus and won't be judged for their participation in abortions, have far less to rally for and less of a short-term stake in the game. These gentlemen with nothing in common, except for showing up at the same time in the same place to support the same cause, stood with me as I did my best to keep some misguided sidewalk prophets off their megaphones and made me feel far less alone.

As a woman, I appreciate these individuals. As a Christian, I believe these people behaved in a more Jesus-like manner than our familiar anti-choicers. Without discussing our personal philosophies, they stood by me.
This new clinic defender's experience shows the importance of solidarity and participation in a democratically organized action. Our counterpickets not only helped protect patients and staff from harassment, but they give those participating a sense of connection and a sense of their own voice and power.
In the lead-up to the defense, when asked for comment by the Seattle weekly paper The Stranger, the political arm of Planned Parenthood repeated its vilification of clinic defense:
The safety and privacy of our patients is of the utmost importance. We ask people to respect that privacy and avoid giving voice to the opposition by holding counterprotests at our health centers. We understand an urge to protect an organization you care about and be visible, however, we don't think the need to be visible should come at the cost of patient comfort, safety, and privacy. Right now, we have a new majority in the state legislature and there are bills moving that require people to take action and speak out. For instance, the Reproductive Parity Act, the Voting Rights Act, state level Affordable Care Act protections and health care equity.
Instead of supporting grassroots organizations and activist strategies that have proven to be effective in protecting abortion access and demoralizing the right wing, Planned Parenthood officials portray our clinic defenses as unhelpful at best, and counterproductive at worst.
But Planned Parenthood's strategy of demobilizing action and instead encouraging a focus on electoral politics has not stopped the attacks on abortion rights, and continues to seem a hollow strategy for the many hundreds of new clinic defenders who have been involved in actions in the past year.
If we want to stop the attacks on abortion rights and regain some of the ground that's been lost since abortion rights were first won, the first step has to be reviving an activist movement in the streets that can defend our clinics from the right.