Seattle school bus drivers take on a bully
February 6, 2018
Steve Leigh reports on a Teamsters strike against a wealthy multinational corporation that's refusing to provide health care or pensions to its workers.
SHOULD A profitable multinational corporation provide health care and pensions to its employees?
These are the main issues of an Unfair Labor Practices strike by 400 Seattle school bus drivers represented by Teamsters Local 174 against the First Student bus company.
First Student's British parent company First Group PLC had over $7 billion in revenue in 2016, yet it doesn't provide any of its U.S. bus drivers with general health care and pension coverage. Its drivers are the only ones in the four counties around Seattle who lack these basic necessities.
The company's excuse is that most of its drivers are only part-time, but this is also true of the many other school bus drivers in the region. It would cost First Student $1.7 million a year to cover health care for all its drivers, a fraction of the $27 million the company gets in its contract with the Seattle school district.
The company's latest offer, which would only provide health care coverage to just 22 employees, is a continuation of its bad-faith negotiations. As Local 174 explained in a press release: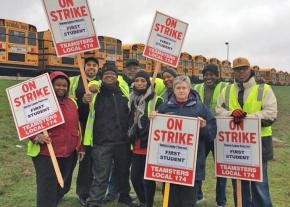 The drivers have been in ongoing negotiations with First Student over health care and retirement benefits since last summer. They participated in a one-day Unfair Labor Practice strike on November 29 after their employer unilaterally implemented an inferior health care plan that had not been negotiated with the Teamsters.
The union supported First Student's bid for an extended contract with Seattle Schools on the promise that the company would engage in serious negotiations over health care and pensions. It was the company's betrayal of that promise that caused the walkout in November and the current open-ended strike.
Drivers were outraged by the company's slightly modified offer, which led to 85 percent of the union membership voting to strike. As driver Star Lucas said in a statement last week:
85 percent is not a fluke. It's not a statistical error. It's a strong statement to First Student that their proposal wasn't good enough and they would need to bring more. We are not going to vote for a proposal that only takes care of us while our own children are left without decent healthcare. We were really hopeful that the company would get the point and come back to the table with something better, but that just didn't happen. So now we're taking this fight to the street.
---
IT'S IN the nature of private corporations to cut corners and squeeze as much out of their employees as possible, even when the safety and well-being of schoolchildren is at stake. This has been clear in Seattle ever since the district decided in 1973 to subcontract its school buses to private corporations rather than making its drivers public employees with decent benefits.
This hasn't worked out well. Since 1973, the district has had to change the companies that provide bus service several times.
The city could solve this crisis today by taking on the bus drivers as district employees with full benefits--or at least invoke its contractual right to fine the company $1.2 million per day for not meeting its obligation to provide bus service. But it's unclear whether the city plans to take this step.
Despite the fact that school bus strikes in Seattle impact 12,000 students and their families, both the action in November and the current strike have won massive public support--because most people rightly blame the company and the school district rather than the drivers.
So far, the strike has been very effective. The night before the strike began, First Student texted all the drivers urging them to cross the picket line, and offered scabs a $25 bonus and a guarantee of working 8 hours per day--benefits it never offered before the strike.
But only a handful crossed the picket line. Drivers are determined to see this fight through to the end.
They are receiving solidarity from Seattle teachers, members of the Seattle Education Association (SEA), which plans to walk out of schools on Wednesday to rally with drivers at both bus barns and on the streets.
Another headache for First Student is that another private company is trying to poach striking drivers, which will add to the pressure the company was already feeling since it was trying to hire more drivers even before the strike started.
Workers and other supporters of social justice should obviously support school bus drivers who are up against a rich multinational corporation with many sources of revenue. It will take solidarity, strong picket lines and pressure on the school district as well to win this strike.