A rogue university goes after a professor
November 7, 2018
Eric Pelkey reports on a retired professor who was unfairly barred from teaching in the University of Maine System.
UNIVERSITY OF Southern Maine (USM) President Glenn Cummings announced last month that retired professor Susan Feiner would be barred from teaching at any campus in the University of Maine System (UMS).
This drastic measure was taken because Dr. Feiner attempted to offer a pop-up course called "Engaged Citizenship," which would have included a bus trip to Washington. D.C., to attend a protest against then-Supreme Court nominee Brett Kavanaugh.
Instead of supporting an accomplished, passionate teacher trying to promote civic engagement, USM chose to acquiesce to the demands of the Maine Republican Party.
Dr. Feiner — who taught in the USM Women and Gender Studies program as well as in the Economics department — wanted the pop-up course to give students an opportunity to have their voices heard and to take an active role in the political process.
In a Portland Press Herald editorial, Feiner stated:
Any and all Mainers — with a story to tell, a demand to make, a position to take — were invited to join us. We'd travel 500 miles overnight to exercise our constitutionally guaranteed right to petition our government, participate in democracy and watch "herstory" unfold.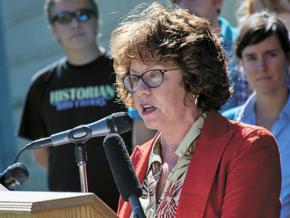 Due to quick unfolding of congressional hearings over Kavanaugh's nomination and the time and effort needed to organize the trip and charter a bus, Feiner readily admits that she failed to submit the necessary application to offer the pop-up course through the university's Frances Perkins Initiative grant. This, Dr. Feiner notes, is why the course wasn't reviewed ahead of time by the USM board.
While this oversight is unfortunate, President Cummings' disproportionate response was to label Dr. Feiner a "rogue professor" and ban her from the state's university system for what was, in effect, a paperwork error.
---
CUMMINGS AND the UMS board disingenuously characterized the pop-up course as "partisan," despite the fact that the course description submitted to the registrar was clearly nonpartisan and open to all. Feiner refutes the charge: "The core of the course that wasn't? The personal is political. Yes, it's political. But partisan? Not."
If challenging and questioning the decision of putting a judge with multiple credible allegations of sexual assault on the Supreme Court is considered "partisan," what should that tell us about our current political environment?
And how exactly is the UMaine System board of trustees — whose members are appointed by Republican Gov. Paul LePage — a nonpartisan organization when Republican Sen. Susan Collins' brother Shawn Collins and GOP gubernatorial candidate Shawn Moody are both members?
A skewed version of the story took off on right-wing talk radio, resulting in USM receiving over 300 angry, violent phone calls. Some of these calls and messages included death threats.
These conservative radio show hosts dishonestly claimed that Maine taxpayers were footing the bill for students to attend a protest. The pop-up course was to be offered as part of the Frances Perkins Initiative grant, a grant secured by none other than Susan Feiner.
Wendy Chapkis, a former colleague, praised Feiner as "an astonishingly successful grant writer who brought hundreds of thousands of dollars into USM's coffers, benefiting not only USM students and faculty but also the taxpayers of Maine."
The last grant obtained by Feiner, Chapkis explains, enabled USM to offer a series of short-term courses on social justice issues. The National Education Association grant allowed USM students to take free courses such as "Food and Social Justice," "Uncovering Black History in Maine" and "Framing Immigration."
---
IN ADDITION to her commitment to her students and her role as a stellar grant writer, Feiner also served as the USM chapter president of the Associated Faculties of the Universities of Maine (AFUM). During her tenure as AFUM president, Feiner fought tirelessly for professors who were laid off in 2014 amidst statewide budget cuts.
After arbitrators ruled that the elimination of academic programs and positions didn't violate the union contract, Feiner issued a response:
Students, their families and the state of Maine suffer when departments are closed and full-time faculty stripped out of departments. If UMaine System managers hope to recruit and retain students, they must invest in faculty who deliver world class education. This decision is a serious blow to the academic reputation and future vitality of all UM universities.
As Portland Press Herald staff writer Noel K. Gallagher has pointed out, since Feiner was retired and teaching the occasional course on an adjunct basis, she wasn't covered by the protections afforded a member of the faculty union. Therefore, she had little recourse to address the unjust decision to bar her from teaching any further courses.
Feiner has asserted that, since she is already retired, she won't challenge the ban. "It's USM's loss," she said. Before her retirement in September, she taught for 21 years at University of Southern Maine.
Before deciding to offer the "Engaged Citizenship" pop-up course, Feiner attended a demonstration outside of Sen. Collins' Portland office on September 28. At this demonstration, Feiner felt moved to tell her story of sexual assault to those in attendance:
Before realizing it, I was telling my story. Of assault. By a star high school athlete. Traumatic then. Wrenching now. Now, though, I have a voice. I told my story publicly for the first time. Fueled by 50 years of rage, I spoke as powerfully as I could. And to my surprise, speaking publicly about those events affected me in ways I still now struggle to describe."
Just imagine how transformative the experience of speaking one's truth and hearing the stories of others could have been for those students if they would have boarded that charter bus just a few days later and attended the demonstration in Washington. The feeling of engagement and solidarity would have easily overshadowed the one credit the pop-up course would have added to their academic transcript.
Dr. Susan Feiner's appraisal of the entire situation is spot-on: "No rogue professor undermined the university's integrity. The university did that."