Statement
From Palestine to Mexico, border walls must go
January 8, 2019
Ready-Mix, a subsidiary of Mexican cement company Cemex, operates factories in illegal Israeli settlements in the West Bank and Golan Heights. Ready-Mix has provided building materials for Israeli checkpoints, the tram service connecting settlements in East Jerusalem and the illegal apartheid wall.
Disgracefully, Cemex's Chairman of the Board Rogelio Zambrano told the newspaper Reforma that the company would "gladly" provide cement for the U.S.-Mexico border wall as well. That statement was walked back due to the political backlash, but with billions of dollars on the table and Cemex's history of profiting from apartheid, it's reasonable to expect that the company would be a willing participant in the project if Trump gets his way.
In opposition to Cemex's complicity with Israeli apartheid, more than 200 Latin American organizations and activists published an open letter in July 2017 calling on the board of directors of Cemex to stop supplying Israel with building materials.
Since that time, Cemex has given no indication of terminating its complicity with Israeli settlements. This — coupled with its crimes against the environment and the company's eagerness to profit off Trump's wall — means that left organizations in the U.S. and beyond should join this campaign to #StopCemex, including signing on to the open letter issued by BDS Colombia, as the International Socialist Organization has done.
THE UNDERSIGNED shops, cultural centers, community organizations, companies and grassroots organizations announce our decision to not buy products from the cement company Cemex until it ends its participation in Israel's violations of Palestinian human rights. We therefore declare ourselves to be Cemex-Free Spaces.
The Mexican company Cemex profits from Israel's illegal policies, building a future that is further and further away from equality, justice, and freedom. The company has production plants in several illegal Israeli settlements in the Palestinian territories in the West Bank, which has been occupied by Israel since 1967. These colonies include Maale Adumim, whose expansion is threatening to once again displace nearby Bedouin communities. In addition, cement and concrete produced by Cemex are used in the construction of other settlements and in parts of the apartheid wall built by the Israeli regime.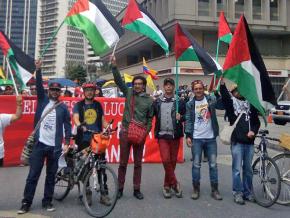 In Colombia, the company has been involved in numerous human rights violations: the paramilitary connections of a company purchased by Cemex, environmental damage to low-income communities in Bogota, and violations of labor rights.
That is why, in response to Palestinian civil society's call for effective international solidarity through boycott, divestment and sanctions (BDS), we are urging CEMEX to withdraw from these projects. Until it does so, we will not use Cemex products in any new construction that we may carry out in our communities or for the repair of our shops or offices, and we call on the residents of our communities and the members of our organizations to also refrain from buying Cemex products.
If you agree with this declaration and you want your shop, organization or business to become a Cemex-Free Space, you can contact us with this form or email us at boicotisraelencolombia@riseup.net for more information. For more background about the campaign against Cemex, see this article.
First published at BDS Colombia.